THE Golden Chariot TRAIN IS OWNED by Karnataka Toursim Development Corporation & OPERATED by Indian Railways Catering and Tourism Corporation Ltd.(IRCTC) – INDIA.
This website is owned & managed by Tailormade Journeys Limited , 25 Grangewood , Slough SL3 6 LP United Kingdom . We only act as the selling agents for GOLDEN CHARIOT and our associates are Leisure Corp Pvt Limited  New Delhi who are the PSA-IA – Karnataka Toursim Development Corporation & Indian Railways Catering and Tourism Corporation Ltd.(IRCTC) who are Affiliate for selling the packages of Golden Chariot  from 2014 onward. Tailormade Journeys Limited only acts as an agent and the entire responsibility of Running & Operating the Train , The catering on and Off Board the Train  , Tours / Sightseeing etc are that of  KTDC  & Indian Railways Catering and Tourism Corporation Ltd.(IRCTC). Tailormade Journeys Limited or their Partners cannot be held responsible in any way .
We do not own or operate Golden Chariot train which is owned by KTDC and operated by Indian Railways Catering and Tourism Corporation Ltd.(IRCTC). 
Tailormade Journeys Limited makes NO CLAIMS on the Trademark or Logo of Golden Chariot and is the property of KTDC & IRCTC.
THE GOLDEN CHARIOT TRAIN
To witness the natural and architectural treasure troves of south India, one of the most exciting and luxurious alternative is to travel on board Golden Chariot train.
Golden Chariot is a joint venture between Karnataka State Tourism and Development Corporation (KSTDC) and the Indian Railways, the Golden Chariot derives its name from the famous stone in Hampi.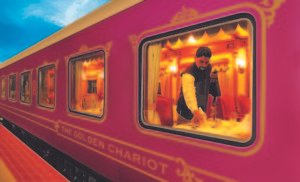 The only luxury train in India offering tours to South India – the Golden Chariot is an award winning luxury train offering 3 itineraries across some of the most prominent destinations in South India. This Indian luxury train comes equipped with state of the art amenities to offer unique travel experiences in India .
The Golden Chariot Train rolls out from Bangalore ( Bengalure Railway Station ) and also return back. The Luxury Golden Chariot offer a gracious hospitality and impeccable service along with a host of cultural interactions translating into unique guest experiences will leave you enthralled and spell bound as you come across the mesmerizing sights and sounds of India's most vibrant region during your Golden Chariot train tour. Rediscover the charm of elegant traveling as you hop aboard the Golden Chariot to discover many worlds rolled together into three luxury train journeys.
The southern region of India is known as one of the ancient cradles of civilization where several dynasties flourished. Dravidian heritage for which this region is renowned across the globe saw patrons of art and culture building and developing spectacular sights and monuments. Hampi, Halebidu, Mysore, Cochin and many more cultural movements saw the erection of some spectacular manmade edifices. There is so much to be seen, witnessed and experienced in South India which may leave even the fussiest of travelers breathless. Itineraries of the Golden Chariot train are meticulously designed to offer whirlwind tour across prominent destinations in India to let you capture the true essence of traveling – to uncover the spirit inherent in the land and people.
The Golden Chariot offers 3 itineraries – Pride of Karnataka, Jewels of South, and Glimpses of Karnataka that span over the duration of 4 to 7 days. Designed to showcase the diversity of the South Indian states in shortest feasible time to those who prefer to travel in exclusivity and luxury, the itineraries of this Indian luxury train include a dash of heritage, wildlife, nature, and modernity to paint the mesmerizing picture of a region blessed with wonders both manmade and natural.
All three luxury train tours start in Bangalore on Sunday and allow you to explore the various attractions of South India from the comfort of the Golden Chariot Train. A jungle safari at Bandipur National Park or Kathakali dance show at Cochin and sailing on the Kerala backwater; you can enjoy it all through Golden Chariot Journey. The luxury train allows a completely soothing journey with the cutting-edge interior design while you witness the majestic Dravidian art and culture at Thanjavur, Mahabalipuram, Hampi, and other places in South India.
Coaches of this deluxe train are suffused with quaint charm evident in the rich furnishings and antique furniture which is inspired from the cultural ethos of erstwhile south Indian dynasties. To maintain the royal élan of the train journey, all the coaches have been named after erstwhile princely states of the south namely Kadamba, Hoyasala, Rastrakota, Ganga, Chalukya, Bhahamani, Adilshahi, Sangama, Shathavashna, Yudukula and Vijayanagar.
There are a total of 26 twin bed cabins, 17 double bed cabins and 1 cabin for the physically challenged. All the cabins of Golden Chariot are outfitted with facilities like LCD television, air conditioning, Wi-Fi internet and a private bathroom to provide cozy comforts to the guests. Other facilities and services provided on board include two ornately designed restaurants, lounge bar, business center, gymnasium and a wellness spa. An array of gourmet delicacies are tastefully served in the lavish premises of the two in-house restaurants whose motifs characterize a mythical character and a Sanskrit word called Nala and Ruchi respectively. There is a lounge bar called 'Madira' where guests can unwind and interact with fellow travelers over a glass of wine.
This is not the end of the road for the Golden Chariot facilities. Guests can also partake in few recreational amenities housed within this luxury tourist train. A fully equipped gymnasium and an Ayurvedic spa 'Nirvana' allows guests to tab on their fitness routine even while vacationing. There is a business center for those guests who cannot make out time for holidays out of their hectic business schedule.Itineraries on the Golden Chariot train are an eclectic mix of history, culture, nature and tradition of South India. The itineraries are paced to allow the travelers soak in the majestic landscape, visit important spots at each destination and relax onboard in the comforts of the train.
GOLDEN CHARIOT FACILITIES
A Midas touch of heritage, royalty and cultural ethos is manifest in the interiors of Golden Chariot train. With its name itself drawing inspiration from stone chariots in Hampi, the train is a picture perfect replica of erstwhile south Indian heritage and splendor. State of the art amenities and personalized services provided on board this luxury train aims to offer one of its kind luxury train tour in India.
Facilities on board Golden Chariot are akin to a five star luxury hotel. An array of modern facilities have been provided in this luxury train which include plush cabins, multi cuisine restaurants, a nonchalant lounge, state of the art conference car and a rejuvenating health spa. Adding to the train facilities is the gracious services of staff that ever let you feel at home during 2 weeklong itineraries offered by this train.
Owing to its world class facilities and refined hospitality, Golden Chariot has earned the recognition as one of the seven best luxury trains in the World .
CABINS
There are a total of 44 guest cabins which include 30 twin beds cabins, 13 double bed cabins and 1 disabled friendly cabin. Modern amenities housed within cabins include air conditioning, LCD television, wardrobes, writing desk, DVD player and attached bathroom among others.
DINING & CUISINES
The Golden Chariot houses two multi cuisine restaurants each of which draws inspiration from mythological texts. The tasteful décor of these restaurants is inspired from the architectural aesthetics of Halebid and Hampi. A delectable spread of fresh and aromatic vegetarian and non-vegetarian cuisines is served for the platter of the guests.
LOUNGE BAR
 The onsite lounge bar, Madira, literally meaning the mythical drink of the Gods is the best place to unwind after a tiring day of sightseeing. It houses a wide collection of exotic wines and spirits to lift up your weary souls. The décor of this lounge is simply elegant and exhibit the design aesthetics of Mysore Palace. Unwind your spirits as local artisans and lilting music add to the nonchalance of a languorous evening.
CONFERENCE CAR
The Conference Car housed within the Golden Chariot train allows corporate moguls to execute their business meetings in a regal way. With a seating capacity of 30 people, this conference car is well appointed with high tech facilities and audio visual equipments to facilitate the business endeavors of the guests.
RECREATIONAL COACH
The modern day traveler expects his journey days to be relaxing and the Golden Chariot doesn't disappoint on this front. The 'Nirvana' spa housed on board the train provides wellness solutions with traditional Ayurvedic massages that are truly appropriate for removing body ailments and balance your energy. The recreational coach also boasts of a fully equipped gymnasium where guests could work out and burn those extra calories.
FACILITIES AT A GLANCE
Indoor Games
Indoor games including crossword puzzles, carom board, chess, Chinese checkers, playing cards and so on.
Wheelchair Assistance
Special assistance is available for differently abled guests in the form of wheelchair, crèches and attendants.
Attendant or Khidmatgar
A attendant, called Khidmatgar is always available at the guest's service, to cater to all of their travel requirements.
Internet
Wi-Fi facility along with Laptops is available on board to keep you connected with the world.
Events on Board
Business meeting, Conferences and Royal Weddings can be arranged on board.
News Paper / Magazines
Be informed on the go with daily news papers & magazines with your morning tea.
Smoking
Smoking in India is prohibited in all public places. Contact tour manager for more details.
Security
Sufficient safety arrangements are always made for the guests and their personal belongings in the train.
Arrival kit
Every guest is welcomed with a glass of wine & an arrival kit that includes stationery items, brochures etc.
Medical Aid
Medical assistance is available on-board the train. A doctor can be arranged on call at any destination.
Special Features
Each guest salon has a sitting lounge equipped with sofas, TV, DVD players and mazazines.
Souvenir
The train has a Souvenir shop that sells handicraft items, traditional artefacts, curios and ethnic dresses.
Voltage
Voltage available on the The Golden Chariot: 110/230V
Bathroom
The attached bathrooms are equipped with showers, toilet & necessary toiletries.
Royal Spa
A well-equipped spa is available on-board that provides therapeutic massages & rejuvenating experience.